Native American Am Sterling Silver Bear Dangle Earrings Pierced
This is a pair of vintage sterling silver earrings of running bears signed AM 925 Sterling. They are pierced hook style and in excellent condition. Carved into each bear is a black enameled arrow pattern. Size of each earring is 1 1/4″ from top of hook to bottom of bear. Width 1″ across. A lovely addition for your collection or for everyday use.
In stock
Related products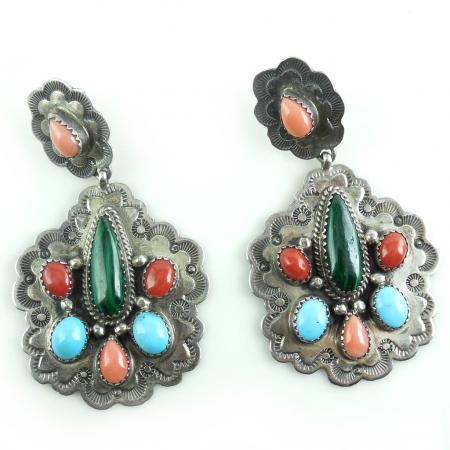 Stunning W Will Denetdale Jeweled Navajo Sterling Silver Shoulder Duster Earrings
This is a gorgeous pair of large, heavy, fancy Will Denetdale, Navajo sterling silver earrings with deep banded malachite, turquoise, red coral and angel skin coral cab stones. They are quite large and beautifully made by hand. Marked Sterling, W Denetdale, Navajo. Size of each is 2 3/4" long by 1 7/16" wide across the dangle. Weight is heavy at 26.9 grams. Condition is excellent, gently used having 1 flea bite to one stone on the grain. Not an open crack. Very minor. Not eye noticeable when worn. This is a stunning pair of beautifully jeweled Denetdale earrings for your highly exclusive Native American artisan jewelry collection. Big and showy with lovely tooling and stunning cabochon stones. From twinrocks.com: Will Denetdale - Navajo Jewelry: One of the most talented Navajo gold and silversmiths currently producing jewelry, Will Denetdale is making an indelible mark in the world of Native American art. His name is becoming famous in his trade; his art a standard by which other pieces may be judged. Will's success as an artist is proportionate to his devotion, and Will Denetdale lives to make jewelry.
$

295.00
Add to cart