Butterscotch Green Celluloid & Plastic Rosary Christian Catholic
39 inches long this is a vintage late Art Deco to mid century estate rosary with 8mm butterscotch celluloid beads and 6m green hard plastic beads that look like bakelite but are likely plastic. The cross and heart are transparent brown color; either celluloid or another vintage plastic. Excellent condition having only light normal age wear.
Related products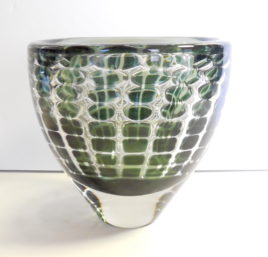 Mid Century Ingeborg Lundin Orrefors Ariel Graal Vase Scandinavian
Mid Century Ingeborg Lundin Orrefors Ariel Graal Vase Scandinavian - This is a stunning example of Orrefors Ariel Graal mid century Scandinavian Swedish Modern geometric design glass made by Ingeborg Lundin (highly accomplished well listed artist, heavily published, major long term artistic design for Orrefors as well as gold prize achiever in 1957). Signed Orrefors, Ariel 159 M, Ingeborg Lundin. M series is from 1963. (See last 2 photos for markings). It is from an estate collection of mid century Scandinavian glass and in excellent, original condition. No chips or cracks. Completely original. Never altered or polished out. Some normally expected light, minor, faint age scratches at the bottom. Size is large at just about 6" tall and weight is 7.8lbs. Width across the top is also 6". Thickness is 9/16" at the top tapering down to 1 5/8" at the bottom. Color is an unusual and likely harder to find green that shades from bright mint green to slate green in natural lighting. For the discriminating collector of mid century modernism Swedish Modern glass this is an exceptionally fine example in a rare color and size by a well respected artist for your collection!
$

2,100.00
Add to cart