Treated Red Jade Bangle Ring Band Stacker Nice Color Large Size 9.25
This is a treated red jade bangle ring or stacking ring band in a large size 9 1/4. The color is red with pink and white translucence in lighting. It is well carved, curved and rounded like a bangle. Flat on the inside. Width is 1/4″ across so it is able to be used alone or as a stacker with other rings. It is also quite comfortable. A lovely bangle ring for your collection.
In stock
Related products
Sale!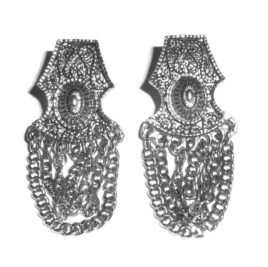 Vintage Egyptian Revival Silver Chain Wrap Screw Back Dangle Earrings L
Vintage Egyptian Revival Silver Chain Wrap Screw Back Dangle Earrings L - Size Large. This is a gorgeous pair of old 1960s to 1970s mid century vintage hinged screwback earrings with very ornately detailed Egyptian Revival fronts with and a dangle wrapping of multiple silver chains. Old store stock from an old jewelry store in beautiful store display condition. They are very heavily silverplated and have a dark antique finish in the grooves. Size of each earring is 2.25 inches tall north to south. Condition is like new. No wear marks at all. No wear to silver. Better than photos this is a beautiful, pair of very showy, older vintage Egyptian Revival earrings in wonderful condition for your collection!! The screwbacks are strong and work well. Very well made. About 1950s and 1960s jewelry: The manufacturing of jewelry depends on prosperity. When people are able to afford jewelry, it is fashionable to buy and wear it. The United States emerged from World War II as a superpower. The 1950's and 1960's were decades of economic growth. Working class Americans had money to spend on jewelry. Public education, the mass media, and television informed the nation enough about past events to develop keen interests in all styles of jewelry. People chose to wear diverse styles of jewelry. They developed discriminating tastes, which the jewelry industry sought to satisfy. These factors gave the jewelry industry a boost and allowed jewelry retailers to make a profit. Many people began collecting jewelry in the 1950's and 1960's. Some wonderful jewelry collections trace their origins to this time. See Ruby Lane Blog https://www.rubylane.com/blog/categories/jewelry/jewelry-of-the-1950s-and-1960s/ for more info on vintage 1950s and 1960s costume jewelry. It shows you examples by picture and how well made the jewelry of this era was. Large, elaborately made and very visible and showy were characteristics of all jewelry during this post World War 2 time frame.
$

35.00
Add to cart