Heavy 15.3gr British English Birmingham Hallmked 9k Gold Mens Buckle Ring 12.25
A gorgeous British English heavy 9K yellow gold double buckle mens ring in crisp, like new, freshly polished condition. Ring size is 12 1/4. Weight is heavy at 15.3 grams. The top is 1/2″ wide North to South. It is hallmarked with Birmingham 9K gold assay, has a script u date letter mark (1969 or 1994) and also has a goldsmith maker mark of WMG. It is expertly made with strong details. This is a stunning ornate mens statement ring for your collection.
In stock
Related products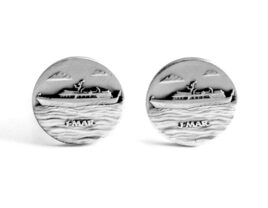 Vintage Sterling Silver J-Mar Yacht Mens Swivel Cufflinks Hinged Hammered
This is a pair of vintage mid century sterling silver mens hinged swivel cufflinks with a detailed ocean image on the tops of a large yacht or ferry boat and J-Mar below. They have an old block letter sterling mark and are jeweler tested and Guaranteed to be solid sterling silver. The scene on the fronts is highly detailed and still very, very crisp; not worn down. There is a large yacht/boat across the center that sits amid a wavy ocean and raised clouds in the sky. All details are intricate and well recessed. A nice crisp clear casting was used to make these links. The backs have hinged swivels so the connector moves east to west while the link moves up, down, around. These cufflinks are from an estate and in excellent condition overall. The swivels work well. The tops are still crisp and fine with the original 1960s satiny type of finish still intact; not worn. The back links are a little tight from lack of use but are strong and work well. The backs are a little rough with age and could be polished up. They were Never monogrammed or inscribed. Top edges are fine. No dents or dings or damage. All original. Never altered or repaired. Size of each top is 3/4" across. Weight is 12.7 grams. Lovely pair of vintage hinged swivel yachting cufflinks for your collection.
$

75.00
Add to cart