Hand Wrought Southwestern Fancy Cross Sterling Silver Pendant Brass Trim
This is a fine quality hand made Southwestern sterling silver cross pendant with brass trim. Marked 925. It has a thick twisted brass raised edge and deep fancy engraved work throughout. It is also curved outward in the center. Very well made with thick, quality sterling silver. Size is 1 5/8″ tall with the bale and just about 1″ across the arms. Weight is 5.5 grams. No damage. Excellent condition. It has a large wide bale. Just add any chain or beaded necklace up to 4mm and you will have a beautiful showy Southwestern cross necklace.
In stock
Related products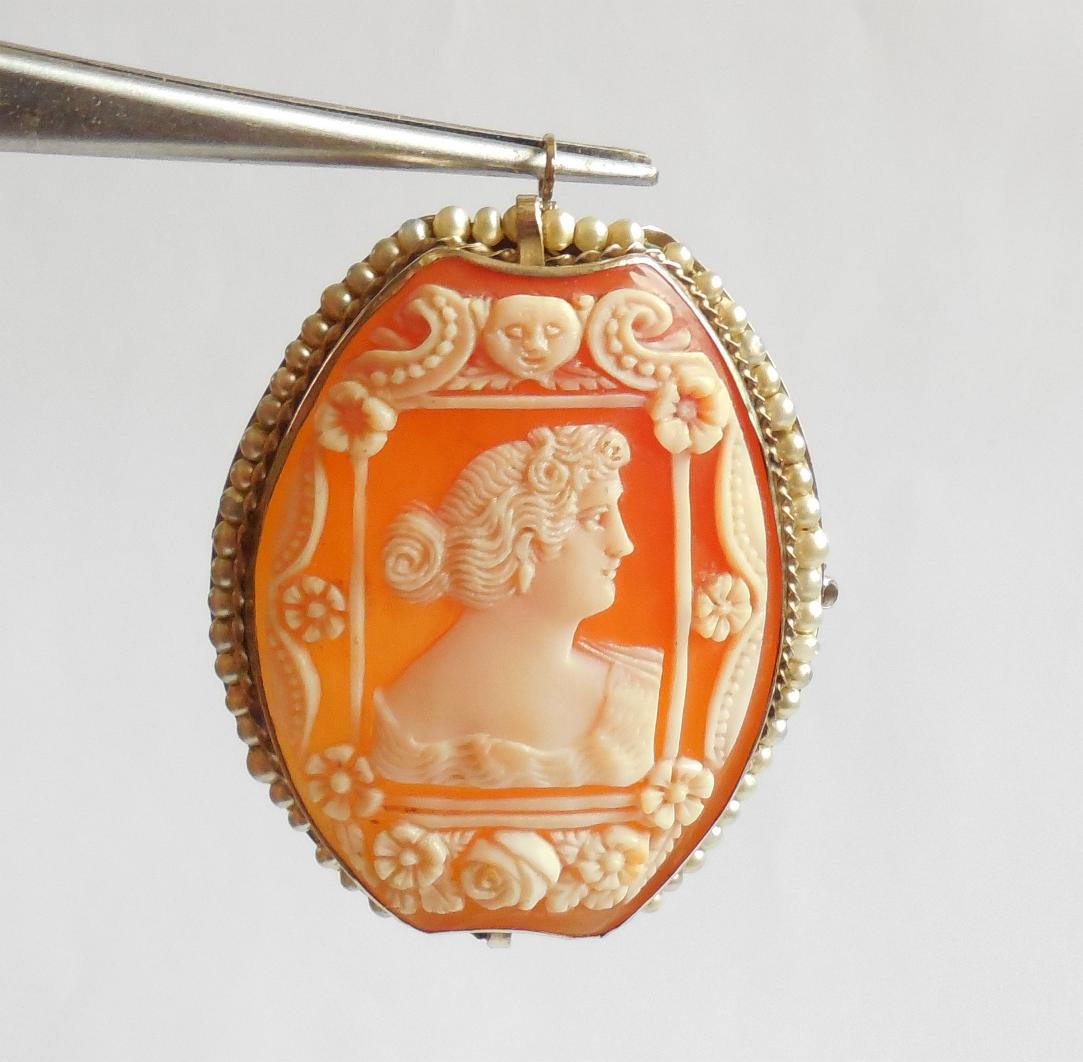 Antique Edwardian Signed 14K Gold Pearl Wrapped Cameo Pendant Pin
This is a gorgeous and impressive signed early 20th century Edwardian carved shell cameo in 14K white gold. It is marked, tested, and Guaranteed to be solid 14K gold. The round loop at the top is not gold and the pearl wrap is early faux. Condition is excellent. No cracks or chips. The lines you may see on the back are natural and internal to the shell; not cracks. As is commonly the case with these early cameos the acid etched signature is visible but not very legible. See last 3 photos. The entire cameo itself is unique and beautifully deep carved. The portrait is very intricate and finely detailed. She has a lovely face with an aquiline nose, very noticeable intaglio carved eye, straight lips, carved blouse and carved cap that sits tightly on her skull crown, and is surrounded by wavy hair that decorated the circumference of her head and pulls back into a bun. She also has a carved earring on her ear. Usually the hair on these early cameos jutts out in waves in the back is rarely seen in a tight carved bun. Additionally, there is a raised picture frame border around which is draped a garland of flower and fancy dotted scrolls at the top along with a most unusual carved small smiling face center top that watches over her. The carving, shape, and subject on this cameo is highly unusual. She is in a thick 14K white gold frame that was made just for her with an inverted top and bottom. The frame is decoratively surrounded by wire strung faux seed pearls that are held in place by a hand applied thick gold loop at the top and bottom center. The pinback is early Edwardian lever up type whereby there is a tiny lever on top which pushes up to release the lock down. The 14K gold marking is found on the hook. The loop bail is hinged so she can be worn as either a pin with a hidden bail or as a pendant. Other than a small dent on the back frame the 2:30 position she is in excellent, gently used condition. She is completely original and has not been touched, repaired or altered in any way. Any lines you may see on the back are natural inclusions to the shell; not cracks. You can run your fingernail over them and the shell is smooth. No damage or repair to the cameo itself. No chips or flakes or repair. Never altered in any way. Size is 1 7/8" tall north to south with the loop bail extended upward by 1 3/8" across the center east to west. Weight is 10 grams. This is a very high quality signed Edwardian cameo for your collection. She is quite rare with the signature, the carved frame, and the carved smiling face above. Beautifully made and very pretty!
$

950.00
Add to cart