Antique Victorian 10k Gold Chain Link Cufflinks Mens Womens
Pair of antique Victorian 10K yellow gold and black enamel antique mid to late 1800s mens or womens cufflinks. Possibly mourning cufflinks as they have black enamel work. Fancy raised repousse style work. Backs have bar links connected with chain links. Size is 13/16″ long. Weight is 4.3 grams. Excellent condition. This is a lovely pair of original, ornate, Victorian cufflinks for your antique jewelry or cufflinks.
In stock
Related products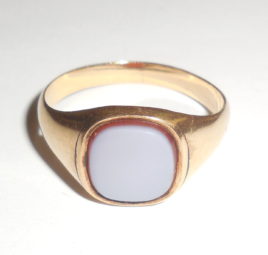 Antique Victorian 14K Gold Banded Agate Mens Ring Size Large
Antique Victorian 14K Gold Banded Agate Mens Ring Size Large - This is a lovely, all original, antique Victorian 1880s natural banded agate mens ring in solid 14K yellow gold. It is hallmarked/punchmarked 14 (see photos) and has a solid back except for light to pass through the stone. It is also jeweler tested and Guaranteed solid 14K yellow gold. The agate gemstone on this one is gorgeous. It has carnelian color on the back and milky blue color on top. When it is on the finger the light blue color looks solid with a carnelian red brown border. When off the finger you can actually see the red brown through the blue top. It is an unusually pretty piece of natural mined agate.  Size of gemstone is 11mm by 10mm. Ring size is 11.25. Weight is 5.8 grams. Condition is original, gently used. It has an old prior resize that is still secure. Good stone. No dents or dings. No deep scratches, tears or wearing down of the gold. The bottom of the band is still just over 3mm wide across. Any age wear is minor and consists of only a few light surface age scuffs that don't detract and are not eye obvious when the ring is worn on the finger. No chips, scratches, cracks or abrasions to the original Victorian stone. This is a lovely mens estate ring for your antique and Victorian gold jewelry collection. Metal: Solid 14K yellow gold Marking: Punchmarked 14, also tested and Guaranteed solid 14K gold. Gemstone: Banded agate Gemstone Color: Red/Brown to Light Blue Gemstone Size: 11m by 10mm Ring Size: 11.25 Weight: 5.8 grams Condition: Excellent, gently used.
$

450.00
Add to cart