Antique Hand Wrought Iron Silver Tracery Figural Pepper Slider Snuff Box
Antique late Art Nouveau to Early Art Deco Figural Pepper Sliding Snuff Box.
Handwrought Iron with Silver Tracery Pepper Flowers on Top.
This is a slider. Does not lock. Never had a lock.
Other than some age wear to the silver tracey it is in excellent condition.
Slider works freely and easily.
Size is 2″ North to South from pepper stem to bottom of pepper.
Width is 1 3/16″ East to West across body of the pepper.
Height is 5/8″ tall.
A lovely unusual antique figural snuff box originally for pepper snuff for your collection.
Related products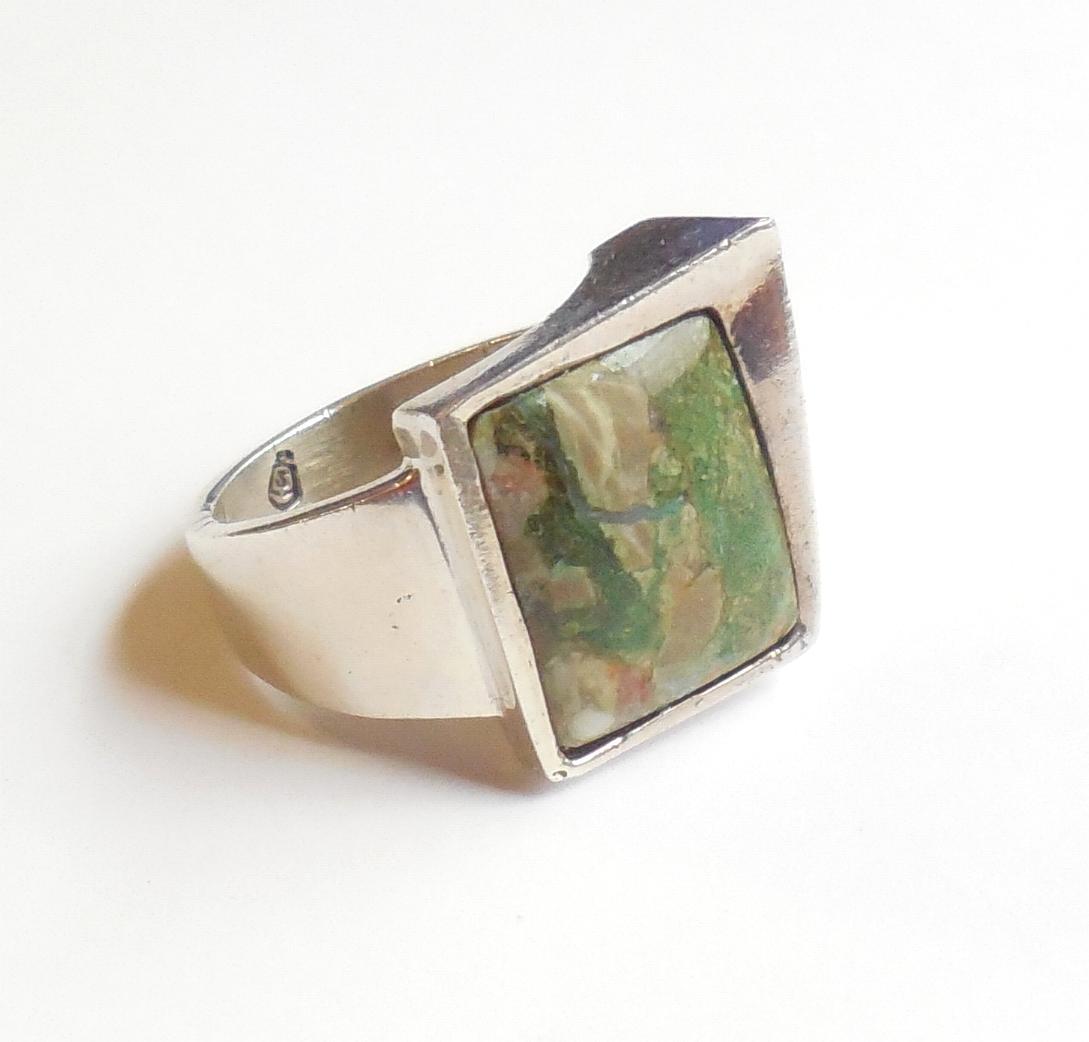 Vintage Mexican Sterling Silver Green Jasper Mens Ring 11
This is a very heavy, chunky, mid century modernist Mexican sterling silver mens ring with a large green jasper cabochon stone. It is signed with an artist/maker mark that looks like a Francisco Rivera marking. It also has #3 bell/eagle mark along with Mex 925 and other numbers. Guaranteed to be solid sterling silver with its original, natural green jasper stone. It has high quality hand crafting and is beautifully made with strong mid century modern design, a beautiful showy green jasper stone with plenty of light earthtone contrasts, and a very large, heavy setting. Ring size is 11. Weight is grams. The top measures 7/8" north to south on the longer edge by 5/8" wide across the center east to west. The jasper cab is 3/4" by 9/16". It has some surface scratches from age and a few tiny edge nicks, very minor. Could be jeweler polished to look new but not necessary as it looks okay the way it is. Other than this, it is excellent. No deep gauges or tears to the sterling. No large nicks or dents. The band still has its original perfectly round shape, no pulls. Some light age wear to the stone but no cracks or chips. As with all jasper it has natural internal inclusions between colors but no cracks. The green jasper color is a little more unusual and the stone is securely set. This is a lovely large showy signed modernist ring for your vintage mid century jewelry collection.
$

150.00
Add to cart