925 Sterling Silver And 18k Gold Alysa Designer Signature Love Cable Collar Pendant
Designer Alisa Italy 925 sterling silver and solid 18K gold signature Love collar pendant Strongly made of thick sterling silver and 18K yellow gold. Hand Made with a solid 18K gold LOVE plaquette. Size is 1 3/16″ across by 1 3/16″ tall. Weight is 5.5 grams. Condition is excellent, very gently used. As you would expect from Alisa this is beautifully made and very very showy with a good chunk of 18K gold on it. A lovely pendant for your designer jewelry collection.
In stock
Related products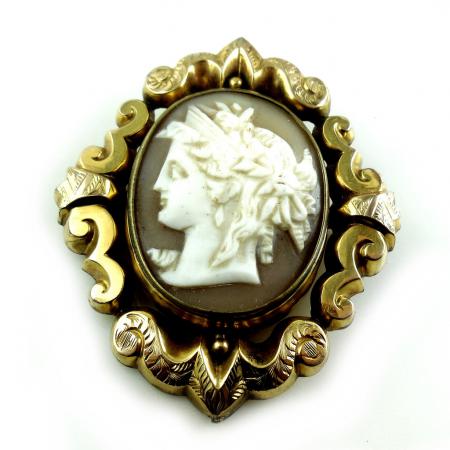 Large Antique Victorian 10k Gold Spinning Mourning Cameo Pendant Pin Memorial
Large Antique Victorian 10k Gold Spinning Mourning Cameo Pendant Pin Memorial - This is is a large stunning antique Victorian 10K gold carved shell cameo keepsake pendant/pin and it's a SPINNER!! It is all hand made and the cameo is signed with the etched signature of the artist on the back. Looks like it reads "Selz". Size is 2 1/4" from top to bottom by 1 3/4" wide. Depth is just over 3/8" from back to the top of the cameo. The cameo itself is 1 3/16" tall by 1" wide across. Weight is 14.4 grams. The back edge of the cameo has a small surface scratch; Not a crack. The pinback was upgraded to a locking clasp many, many years ago and is excellent; it works well, is strong and secure. The goldsmith did a very good job. The cameo is bezel set with 2 hand applied pins in the frame, thereby, allowing it to spin around freely. There is no back cover but the inside of the back is very deep, almost 3/8" and would be a great conversion for any hair or keepsake or momento if jeweler could add a flat back. There is a lot of gold in this pendant. Or it can just be worn the way it is without the addition of a cover. The cameo LEFT FACING and exquisitely carved with beautiful intricate details.....very fancy carved hair draping down the neck, fancy hairpieces, deep wide open intaglio eyes, sharp crisp pointed nose and mouth, earring. The 10K gold on the front is 3/16" deep in most places, has very fine quality Victorian work with deep engraving amid fancy scrolls. The back has a couple of very minor pinpoint size dings...maybe 1/10 of 1mm....very very tiny and minor. The large size, weight, depth, spinning and carving make this is an absolutely gorgeous and rare Victorian for your antique gold collection or to use as a pendant pin or add a back cover for a spectacular rare memorial item!!
$

395.00
Add to cart