Mens Jewelry
Czy mozna stosowac altacet w ciazy czy innego ogromnego źródła miodu, ale przyciągnijmy ręce daleko od nich? Showing 1–40 of 129 results
Not receiving milk at this stage can cause them to be more susceptible to the flu or to develop asthma.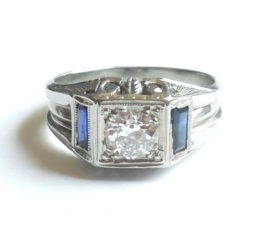 Antique Art Deco 1920s 18K White Gold Diamond Sapphire Mens Womens Ring 7
Antique Art Deco 1920s 18K White Gold Diamond Sapphire Mens Womens Ring 7 - This is a late Edwardian to very early Art Deco solid 18K white gold ring with a center diamond and rectangular sapphires. It is marked 18K, jeweler tested and guaranteed solid 18K gold. Very chunky and well made. The original shank/band is still wide, thick and strong....not worn down. The top has gorgeous geometric Art Deco design mixed with a tight 1920 linear pattern on the front and back as well as hand pierced and open filigree work on the front and back. Sides have a deeply recessed ribbed design with a beveled top in the center and flat sides. Ring size is 7. Weight is 5.8 grams. The center diamonds is a very early European Cushion cut that sparkles like an old mine cut. Beautifully cut and showy. Total carat gemstone weight is .78 carat. The diamond alone is just over .5 carat and the sapphires are .26 carat total. The sapphires have lovely glowing cobalt blue color. The diamond has 1 very small carbon spot and an internal inclusion. The inclusion is not visible to the naked eye. It is SI3/I1 with I/J/K color. It faces up white in the setting and is highly noticeable. This ring is about 100 years old and from an estate and in completely original condition. Never altered. No prior repair. No resize. It has some age wear that is only obvious in the magnified photos but not too eye noticeable to the naked eye when the ring is on the finger. One sapphire has a tiny abrasion which is not visible at all without a magnifier. Must use a loupe to see it. The bezel edge for the other sapphire has a very small 1mm section of wear directly at the edge. Please see photos and expect it to be very, very small in person. Structurally, the ring is sound and in excellent condition overall. Stones are good. No cracks. This is a gorgeous, original early Art Deco ring for your fine jewelry collection. Nice showy early diamond in this one.
$

1,300.00
Add to cart