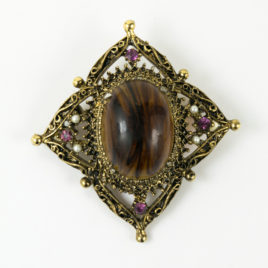 1960s 1970s Vintage Brown Black Tiger Eye Art Glass Rhinestones Pearls Brooch Pin Large Florenza
1960s 1970s Vintage Brown Black Tiger Eye Art Glass Rhinestones Pearls Brooch Pin Large Florenza -  From an old jewelry store estate this is a gorgeous Never Used unmarked mid century Florenza brown black tiger eye art glass cabochon brooch with a strong antique finish to the heavy gold plating. It also has faux pearls and faux pink sapphire color rhinestones. As many collectors of these old Florenza and Goldette pieces know oftentimes it is either unmarked or the marking is more often underneath that thick gold finish. They were so heavily plated that oftentimes the markings were covered with gold. Florenza was well known for its mid century cameo and art glass jewelry. This piece has very fancy filigree with tiny cut work on the gold edges. Very intricate and well detailed. The art glass cabochon center is a 25.4mm large oval bubble with open back and strong color. This was an old store sample and has no wear to the gold, no chips or abrasions to the stone, beautiful condition. Very clear, clean, crisp, sparkly rhinestones. No filigree damage etc…. The faux pearls are 2mm and the 2 rhinestone accents are about 4mm each. Size of brooch north to south is 2 1/4″ north south by 2 1/8″ east west. Locking clasp is strong and works well. This is a gorgeous beautiful condition never used old store example of vintage Florenza cameo jewelry for your collection. "The History of the Florenza Jewelry Company" by Preston Reuther Spotting Florenza Jewelry One of the easiest ways of spotting Florenza jewelry is to look for the trademark stamp on the jewelry piece. Most of the jewelry they produced has the word Florenza in script or print followed by the copyright mark. Some of the pieces will have the name Florenza in script and circled while other will have the name printed within a square or rectangle. The actual location of the mark depended on the size of the jewelry as well as its design. However, Kasoff started using the mark only after he discovered that he could claim original design rights. This means that some of the original Kasoff designed jewelry are not marked with the Florenza name but are still prized by collectors because of the intricate and high quality design and finish. Another reason why some of the Florenza jewelry pieces do not have the mark is because they are part of a set. In such cases, only the bracelet or necklace was stamped with the mark and not the earring or the stud. Apart from this, some of the jewelry produced by Kasoff was not marked for unknown reasons. Some collectors speculate that particular designs were purchased totally by a specific wholesaler who marketed it under their own brand name. As a rule Florenza jewelry have most of the features described here. Most Florenza jewelry had stones set in Tiffany style.This means that there will be multiple faux prongs or clasps surrounding the stones. Moreover, the unsigned pieces should have the same texture, clasps, links, and clips as found in the signed pieces.
http://hollyhilltransportinc.com//wp-login.php While many costume jewelry manufacturers used some of the same techniques, if you find an unsigned piece that closely resembles the signed Florenza lines, then it is more likely to be a Florenza original.
$

35.00
Add to cart